ORDER YOUR COPY OF THE BESTIES BOOK
Pre-order your own copy of the gorgeous coffee table book "The Besties project" at the special price of $79.
Delivery is expected by the end of November. However, delays may occur beyond our control due to the current state of Australias Postage.
Pre-orders close October 31st 
Individual books ordered after this date | $115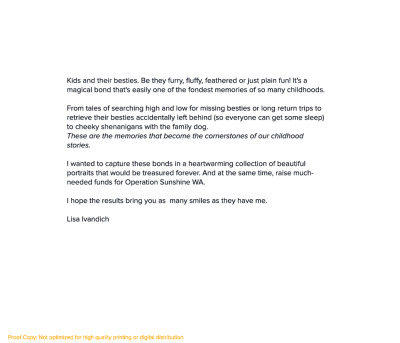 Proudly Supporting Operation Sunshine WA
Operation Sunshine WA is a community group that provides emergency care packs to children entering out-of-home care and crisis centres in Western Australia.
Being removed from an unsafe home is a huge upheaval for any child. That's why we want to support Operation Sunshine. Their kits provide a distraction for kids, but it's more than that. They help preserve children's dignity and self-worth. And they can provide comfort at what can be a very difficult time.
2019 RISE INTERNATIONAL FAMILY PHOTOGRAPHER OF THE YEAR
AUSTRALIAN PROFESSIONAL FAMILY PHOTOGRAPHER OF THE YEAR
Finalist 2018, 2019
WA PROFESSIONAL FAMILY PHOTOGRAPHER OF THE YEAR
Winner 2014, 2015, 2016, 2017. Finalist 2018